The Uninstall Applications feature can be found in the Group Policy settings, under the Endpoint Settings -> Patch & Assets. The Uninstall Applications feature is an efficient way of getting applications removed from all endpoints that are part of the Group Policy. This tool removes most of the applications that Patch & Assets - 3rd Party Patch Management is monitoring and also uninstalls other software that is present on the computer.
To uninstall the software, these are the steps you need to follow:
1. Access the HEIMDAL Dashboard (https://dashboard.heimdalsecurity.com).
2. From the top menu, click Endpoint Settings and open the Group Policy that you want o edit.
3. Navigate to the Patch & Assets tab, 3rd Party Patch Management.
4. Scroll down until you find the Applications Blocklist feature: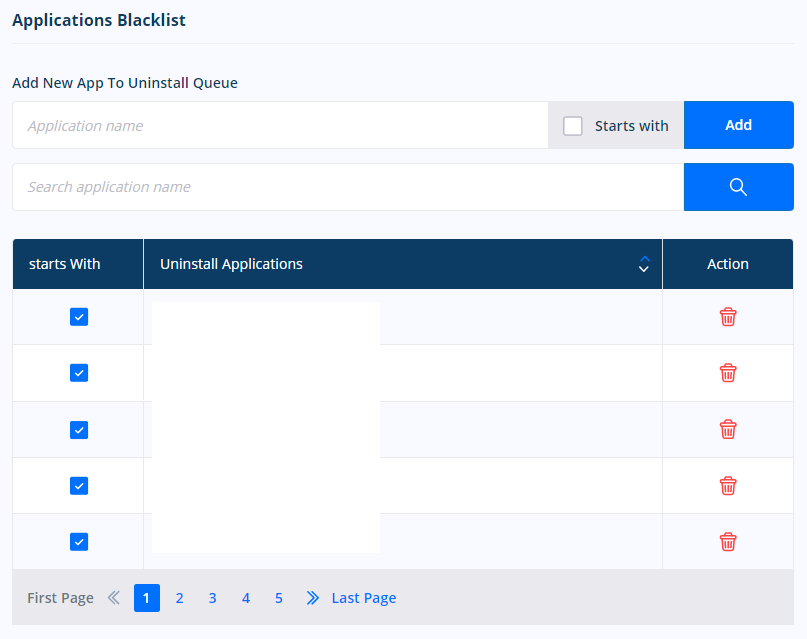 5. To uninstall an application from your environment, you just need to type the name of the 3rd Party Application you want to uninstall (example: 7 zip x64) and click Add.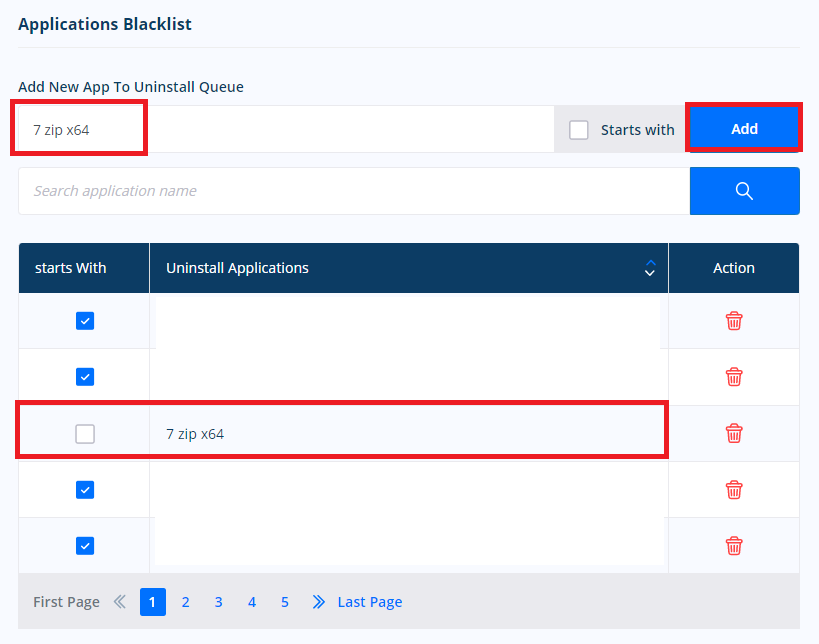 6. The last step is to scroll down and press the Update GP button and the policy will be updated with the new settings.
IMPORTANT
The application name (added in the Applications Blocklist) has to match the exact name of the application name seen in Control Panel -> Programs and Features. If the Starts with option is enabled, Applications Blocklist will search for all the applications that start with 7-Zip and will uninstall them. The Applications Blocklist can uninstall applications (MSI-based) that have a Key entry in the registry or an uninstall string that has the value data MsiExec.exe. The only .exe applications that can be uninstalled using this feature are those that have a QuietUninstallString property (instead of UninstallString) in the registry directory.
Example 1: 7-Zip x64
The registry key is located in the following path: HKEY_LOCAL_MACHINE\SOFTWARE\Microsoft\Windows\CurrentVersion\Uninstall\{GUID}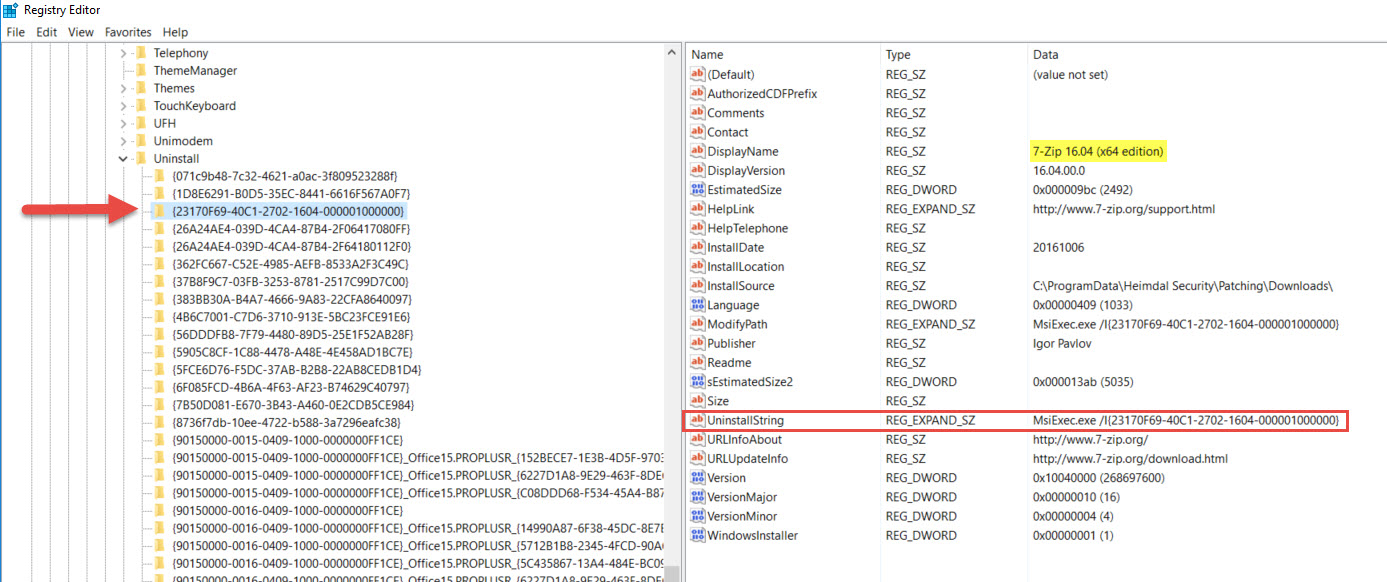 Example 2: 7-Zip x32
The registry key is located in the following path: HKEY_LOCAL_MACHINE\SOFTWARE\WOW6432Node\Microsoft\Windows\CurrentVersion\Uninstall\{GUID}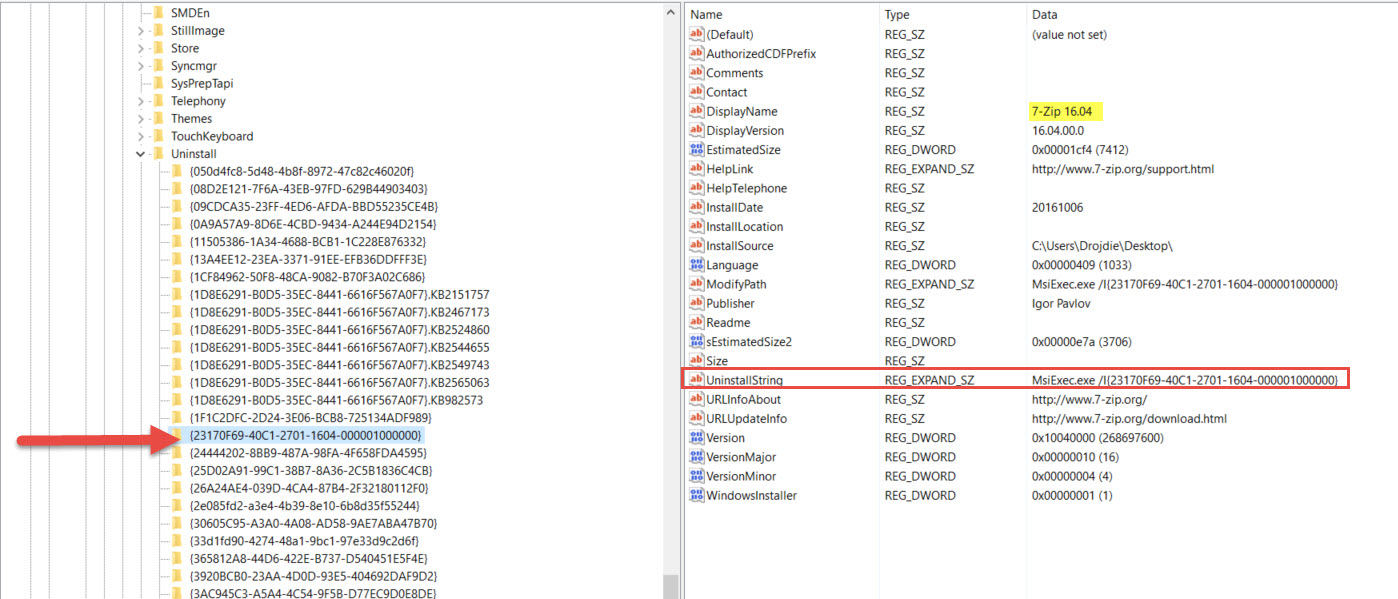 Software that does NOT have a Key entry or UninstallString MsiExex.exe property is not eligible to be uninstalled
Example 3: CCleaner

Example 4: GIMP