We've noticed that you've already been enjoying the many features and benefits of some of our popular cybersecurity tools.
Why not take it one step further and completely integrate your day-to-day IT processes into the unified interface of the Heimdal™ suite? We are excited to announce the release of our cutting-edge Remote Desktop solution, powerful remote access, and control tool.
Heimdal™ Remote Desktop is your one-stop shop for integrated and accessible support sessions, held from your very own Heimdal™ Dashboard.
Heimdal™ Remote Desktop Features
Both agent-based and agentless support from the Heimdal™ Dashboard
Multi-factor authentication for enhanced session security
State-of-the-art data encryption through both asymmetric and symmetric keys
Unrestricted user invitations allow you to engage in multiple remote meetings at once
Unlimited sessions are included with your purchase for the duration of the subscription
Video recording and audit log option that allows you to keep track of sessions accurately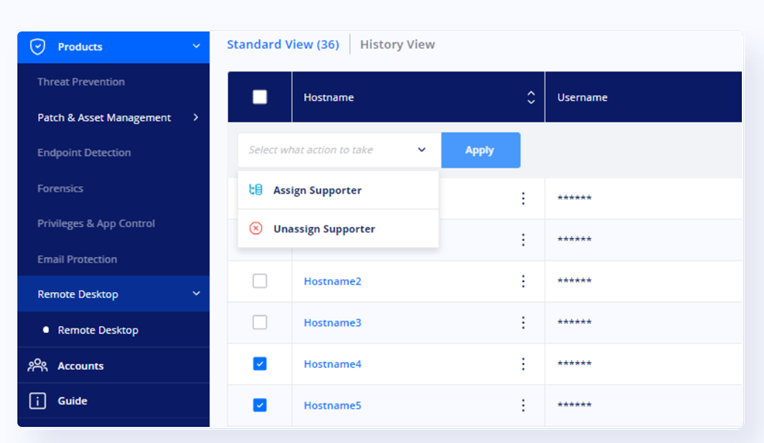 Heimdal™ Remote Desktop Benefits
The ability to connect with users across the globe from the comfort of your Heimdal™ Dashboard
A thorough vetting process ensures that every connection is trustworthy
Advanced data protection that will prevent your session info from falling into the wrong hands.
Maximizes the efficiency of your sessions by inviting multiple users at the same time.
No cap on how much time you spend on a remote session or how many you have per day.
Full compliance with the highest international security standards
Don't hesitate to get in touch right now and schedule your Heimdal™ Remote Desktop demo. Start securing your company's remote support sessions against malicious interceptions, insider threats, and other dangers.
Book your trial right now to claim our one-time-only launch offer where we double your purchased subscription time at no additional cost. Buy one year, get two for the same price!
This special offer applies to any acquired subscription duration. The deal is available for a limited time, so make sure to redeem it before September 30th, 2021.
Simplify your day-to-day IT operations and eliminate the need for third-party products by supporting your users from the unified Heimdal™ Dashboard.