In this article, you will learn how to access the HEIMDAL Dashboard, the login process and the configuration of the 2 Factor Authenticator. The HEIMDAL Dashboard works with a variety of Internet browsers, but it is best supported by the following: Google Chrome (recommended), Mozilla Firefox, Microsoft Edge, Safari.
1. HEIMDAL Dashboard Credentials
2. Activating the HEIMDAL Dashboard account
HEIMDAL Dashboard Credentials
Once your Account Manager has created your HEIMDAL Dashboard customer account, you should receive 3 emails that provide you the credentials and the information that will help you activate and log in with your HEIMDAL Dashboard account.
Account Confirmation email:

Initial account password email:


HEIMDAL Agent Setup email:
Activating the HEIMDAL Dashboard account
1. To activate your HEIMDAL Dashboard account, click the CONFIRM ACCOUNT link from the Account Confirmation email you have received.
2. Input the current password (from the initial account password email) and the new password. See the password requirements below:

must be of at least 12 characters;
must contain a combination of at least three (3) of the following type of characters: uppercase letters, lowercase letters, numbers, special characters;
the new password cannot be the same as the current password.
3. Open the Google Authenticator app/extension to Scan the QR Code or manually input the Secret Key. Use the code generated by the Google Authenticator app/extension to log in to the HEIMDAL Dashboard and press Submit.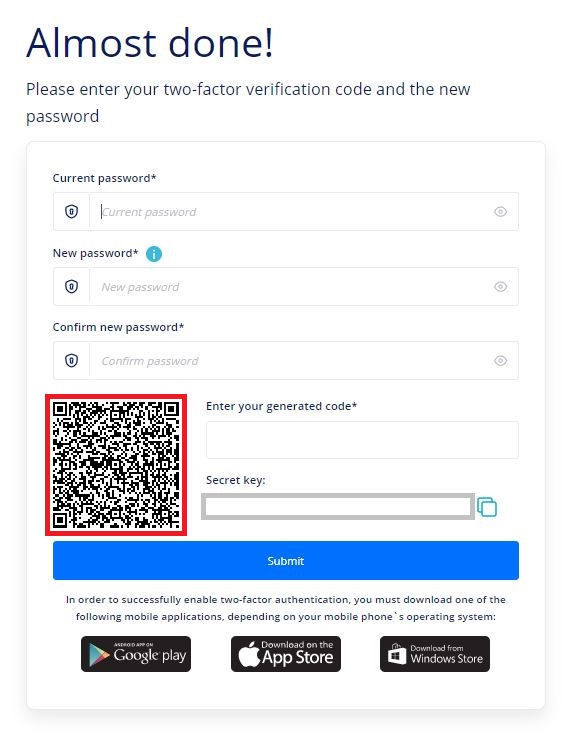 IMPORTANT
The Account Confirmation link expires with the first click. If you fail to confirm your account, you will get this error message and you will have to resend the Account Confirmation email.