In this article, you will learn about the HEIMDAL Agent interface.
1. Home screen – Threat Prevention Endpoint
The first screen of Thor Home is divided into 2 sections and the first one being displayed is Threat Prevention Endpoint.
This product embeds everything a system needs to prevent an infection before it happens. It filters malicious traffic, updates 3rd party apps thus minimizing exploitation risks and it identifies the applications that may have been compromised by attackers. The protection is proactive and reliable.
Here you can have an overview of the numbers of prevented attacks by the DarkLayer Guard module and targeted processes, the probability of infection, and numbers of software updated with X-Ploit Resilience.
You can initiate Thor scans by clicking on the buttons, that is green if everything is fine. These buttons will become orange if there are any vulnerabilities found.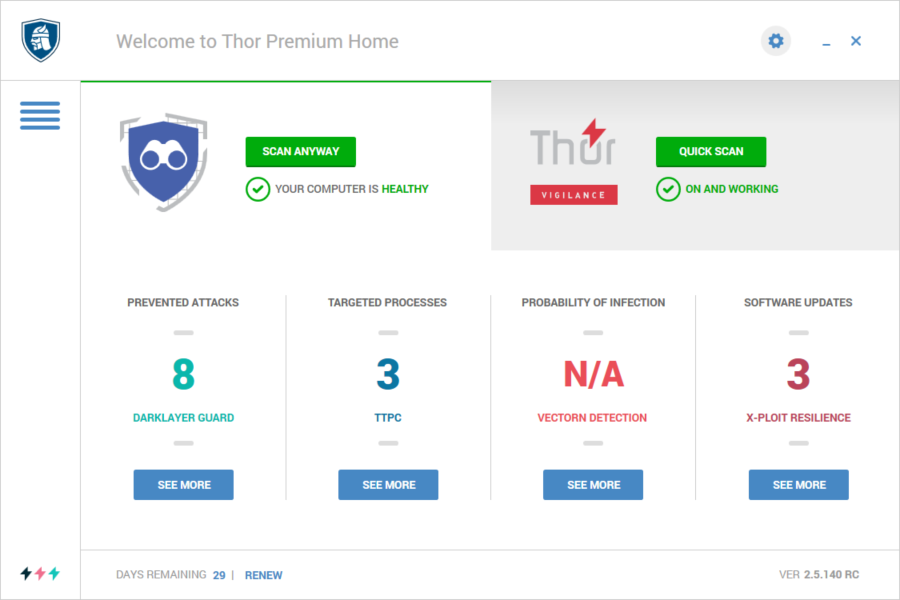 2. Home screen – Next-Gen Antivirus
The second module of the home screen is of Next-Gen Antivirus, the next-gen anti-virus solution provided by Heimdal Security that can be regarded as the reactive branch that deals with threats that have found their way on the computer, like viruses and malware.
It complements the Threat Prevention Endpoint product module to offer all-around protection. It is flexible, easy to use and it offers a wide variety of scanning profiles to fit your personal needs.
The outlook of this tool includes the time of the last scan, information about real-time protection as well as the numbers of infections and quarantined files.
On the bottom left corner of your Thor dashboard, you will always see how many days you have left of your subscription.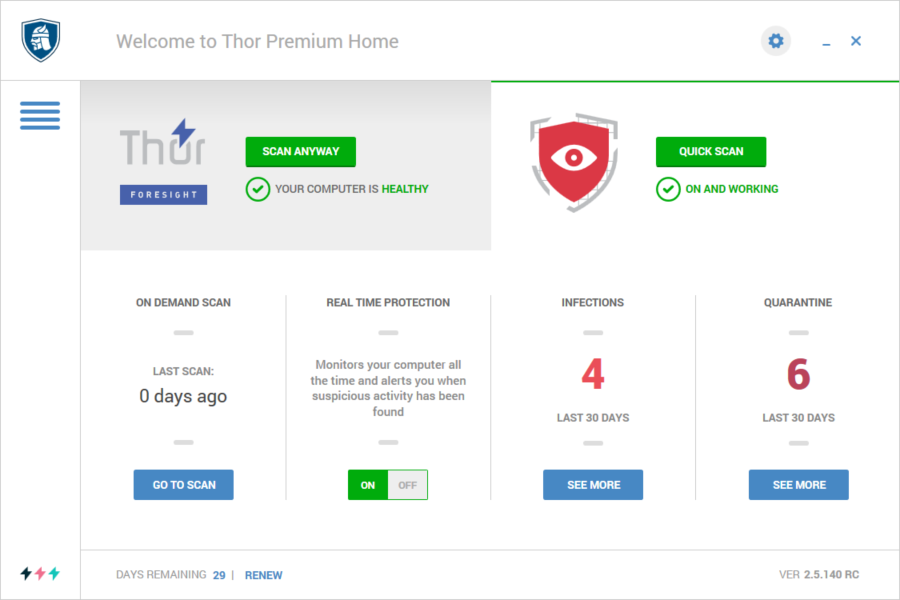 3. Menu – Threat Prevention Endpoint and Next-Gen Antivirus – Light Theme
If you open the left side toggle menu you can access all the features of Thor and also the shortcuts that redirect to various pages from the Heimdal Security website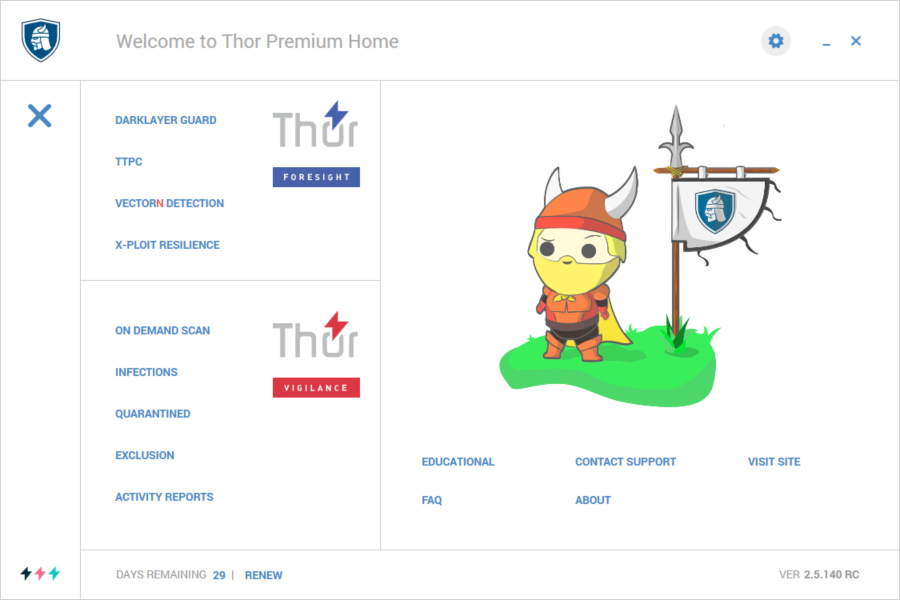 4. DarkLayer Guard
This overview displays a list of infected or potentially dangerous websites that Thor has blocked to protect your system. You can see the web address that has been blocked and the date when it was blocked.
You can also whitelist a domain by clicking the Unblock button next to the domain. We do not recommend you do that without contacting our support team at support@heimdalsecurity.com in order to investigate if the domain is a false positive or compromised.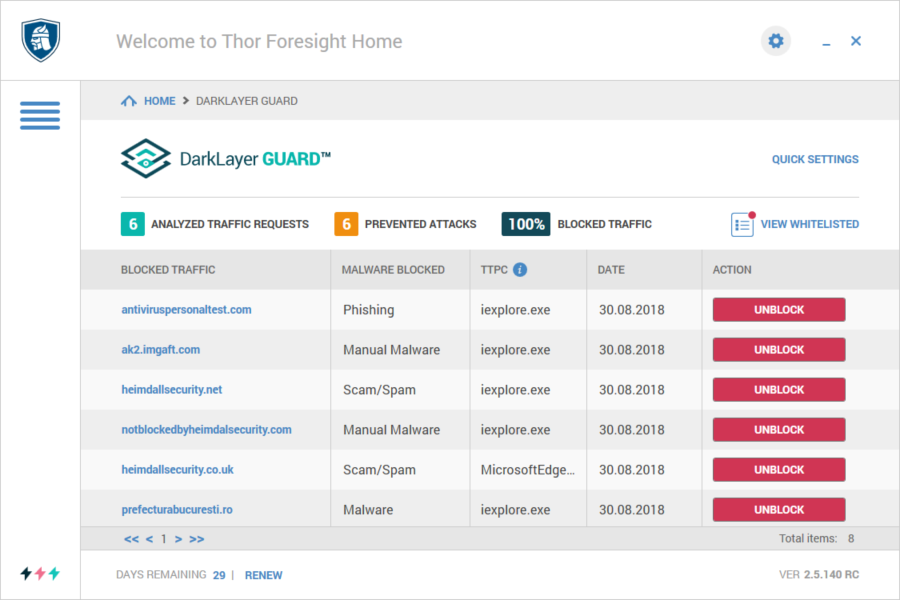 5. DarkLayer Guard – View Whitelisted
In order to whitelist a domain just type or paste the address in the text box and click Add To Whitelist. To remove a website from this list simply click on Block.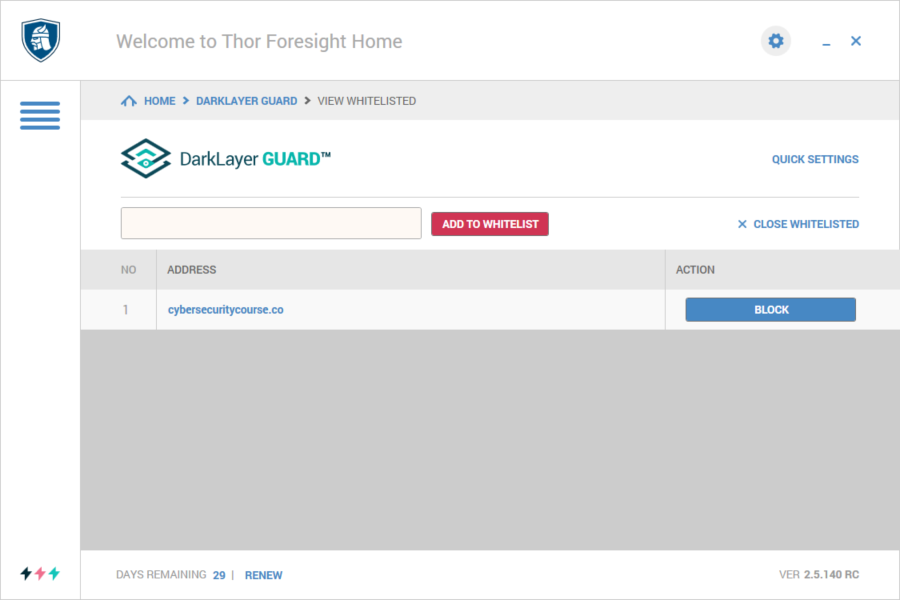 6. DarkLayer Guard – Unblock Address Warning
Keep in mind that we do not recommend you to unblock websites as they are a potential threat to your computer's security.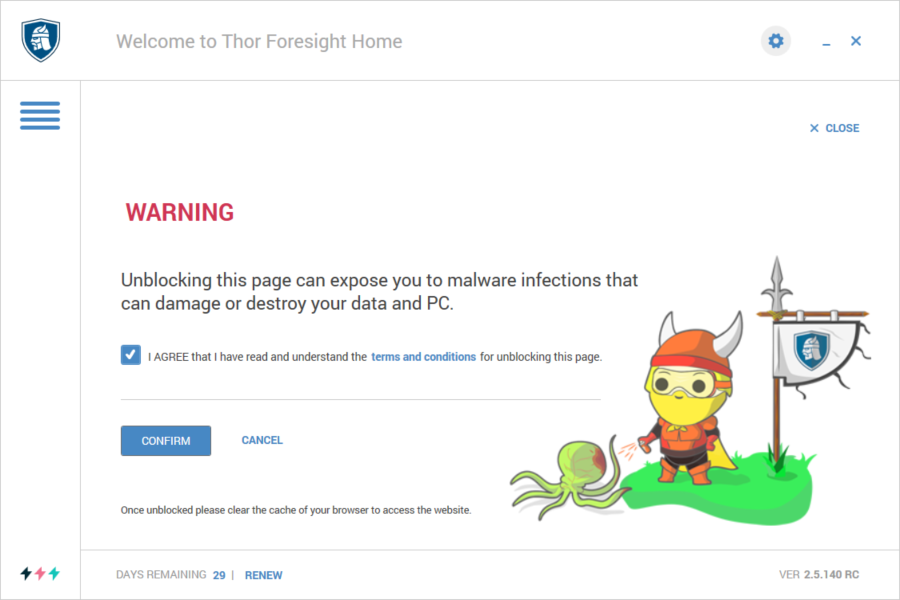 7. Dark Layer Guard – Quick Settings
From this page, you can read a short description and turn on or off the Threat Prevention Network engine.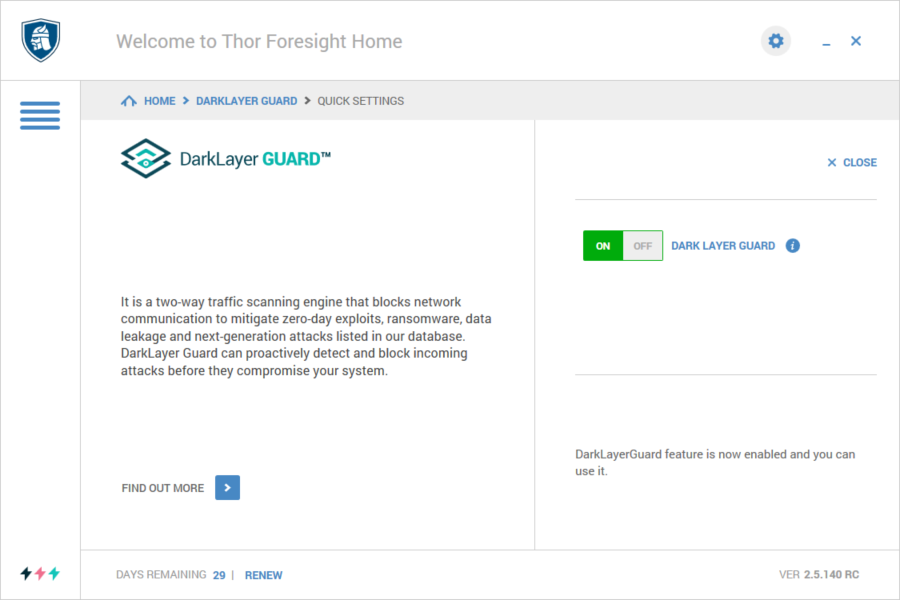 8. Threat To Process Correlation
TTPC (Threat To Process Correlation) offers an insight into the processes that initiated communication requests that were blocked by Thor as they were malicious.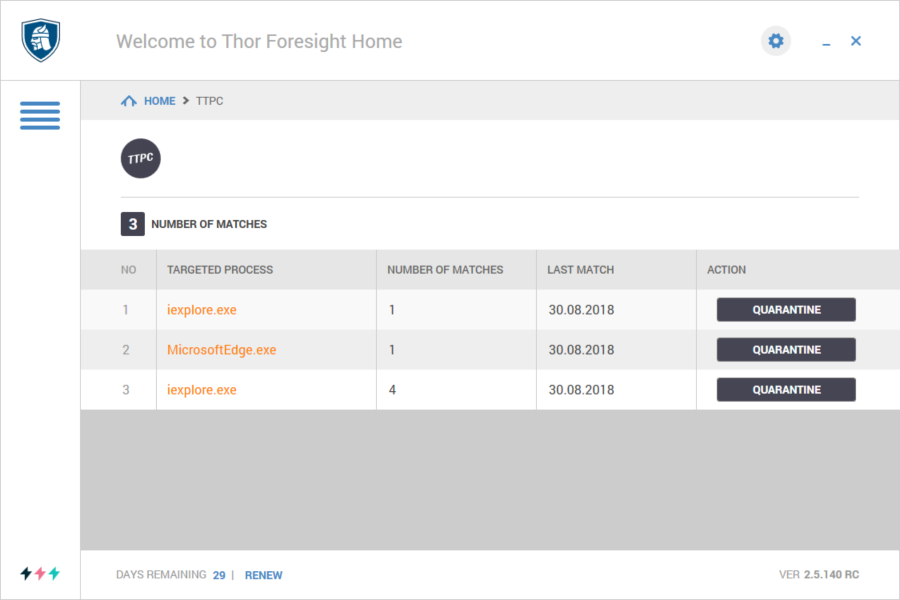 9. VectorN Detection
VectorN Detection features work hand in hand with the DarkLayer Guard feature. Its purpose is to search and detect for patterns in the number of blocks that DarkLayer Guard records.
If a domain is blocked multiple times in a very short period of time, VectorN Detection feature will recognize this behavior as a pattern which means that there is an automatic request sent from the machine to the compromised domain that Thor blocked. If a domain is blocked at a specific time in the course of x number of days, it will also be considered a pattern.
In both cases, Thor will generate a popup window above the notification area (above the time and date in the taskbar) that will inform the user that a pattern was found behind the blocks. This indicates that the computer might be infected and a scan with the Next-Gen Antivirus antivirus is required.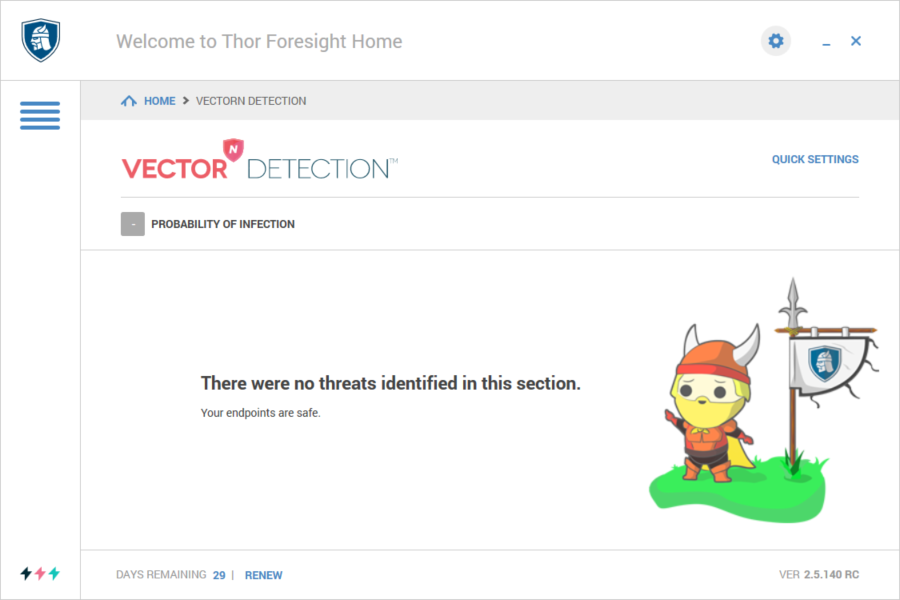 10. VectorN Detection – Quick Settings
From the Quick Settings, you can disable VectorN Detection if you need.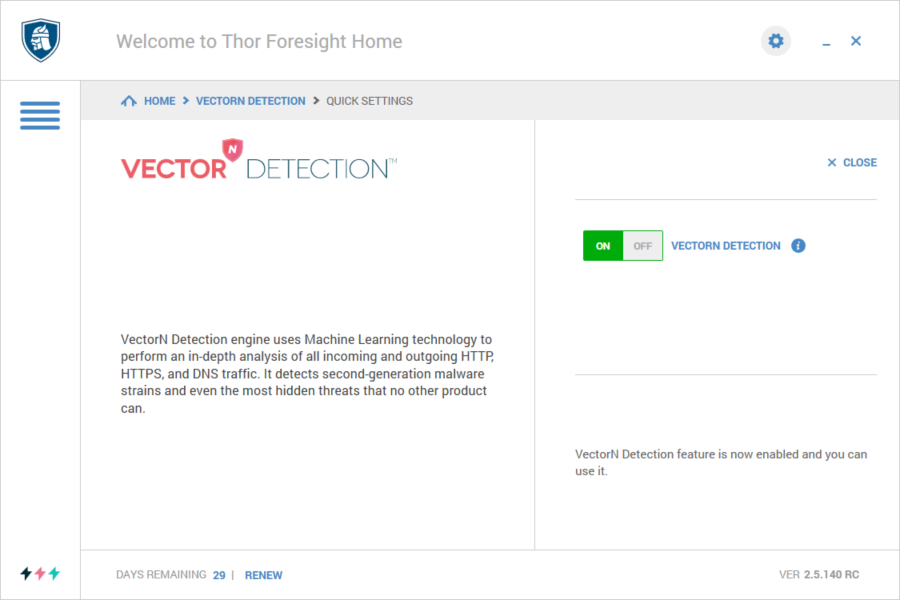 11. X-Ploit Resilience
This part of the engine is designed to monitor and update the programs you already have installed on your computer and are found in the list of engines. It displays the number of monitored software and if there are any outdated and vulnerable apps that need to be upgraded.
As you can see in the image below there are 5 columns:
SOFTWARE NAME: This displays the name of the program that you can update.
VERSION: This shows the current version you have installed.
STATUS: This shows the status of the installation. (see the image below with the list of statuses)
MONITOR: If this option is selected for one of the programs, Thor will start monitoring the software chosen. Every time a new version of that software appears, you will be notified that it requires updating. Note: This option is only to be notified in case a new version is available. It will not update the program.
AUTO UPDATE: Once this option is selected, it will automatically update the software checked to the new version, if available.
Note!
You can also select which applications Thor should not patch for you automatically if you want to. You can do this by deselecting the applications from the "Autoupdate" column. Please keep in mind that this will decrease your security level. For more information, please read this support article: Monitor Vs Monitor And AutoUpdate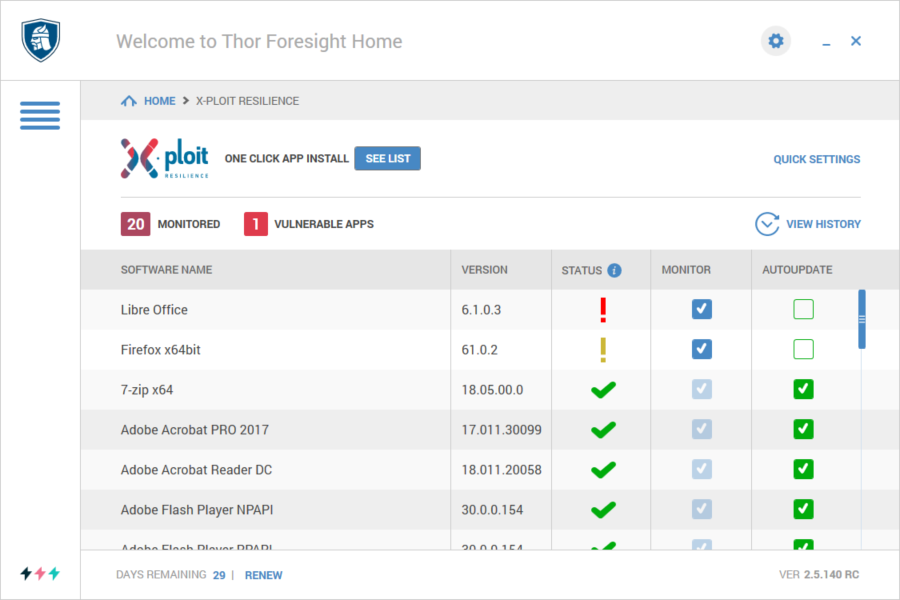 12. X-Ploit Resilience – Installation Status
If you put the cursor on the information icon next to the Status you can find out what each icon means in regard to the installation of an application patched by Thor.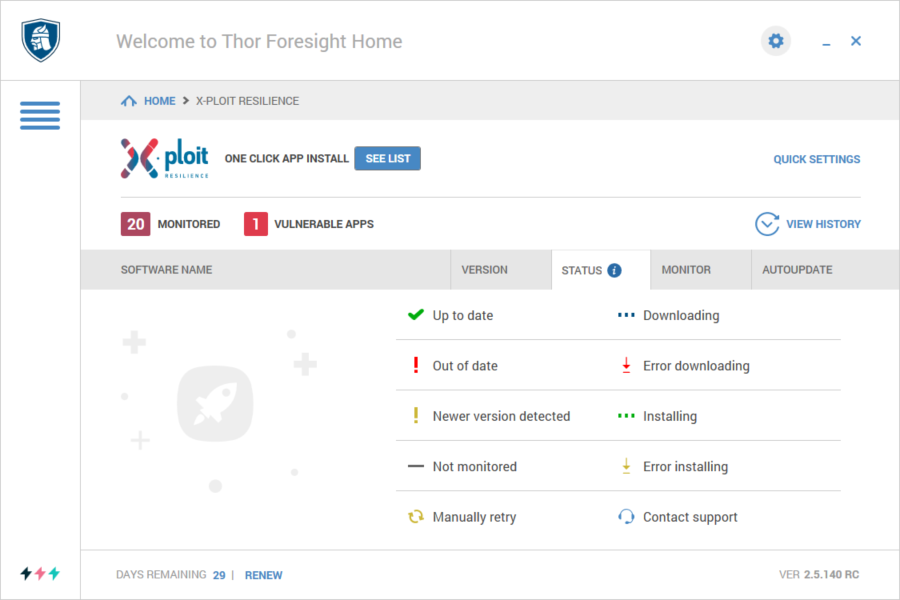 13. X-Ploit Resilience – One Click App Install List
This part of Thor is designed to offer the opportunity to have programs installed directly from our product if you desire to do so. Once an app is installed, it will automatically be added into the X-Ploit Resilience list where it will be monitored and updated.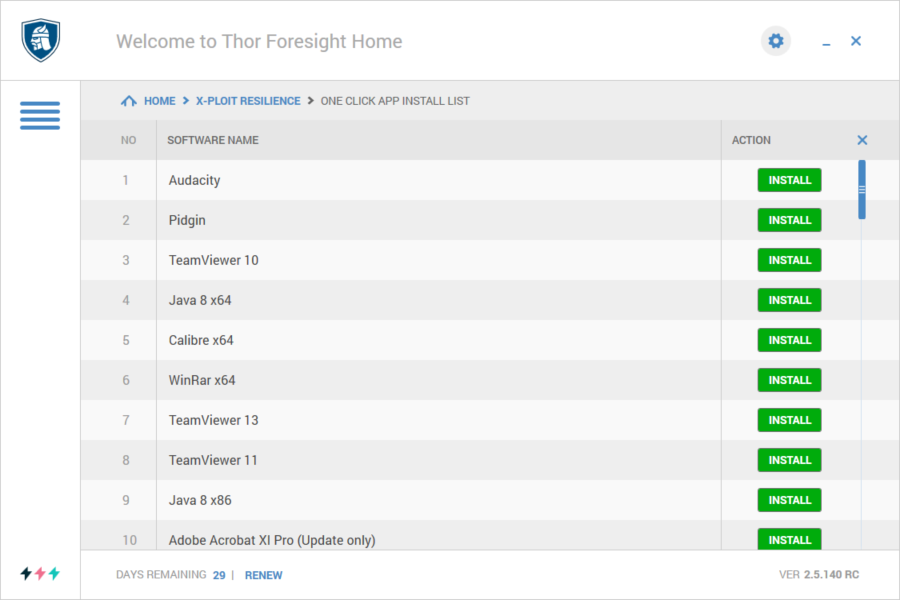 14. X-Ploit Resilience – View History
You have the option to view the history of installations and updates made by Thor's X-Ploit Resilience function.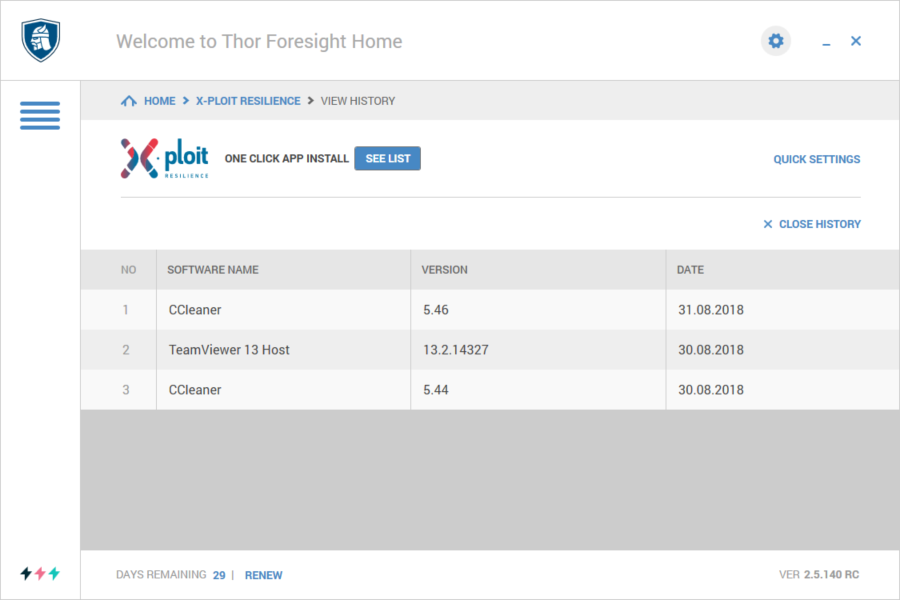 15. X-Ploit Resilience – Quick Settings
Our program allows you to disable X-Ploit Resilience and adjust the time interval when it checks for new updates added on our server.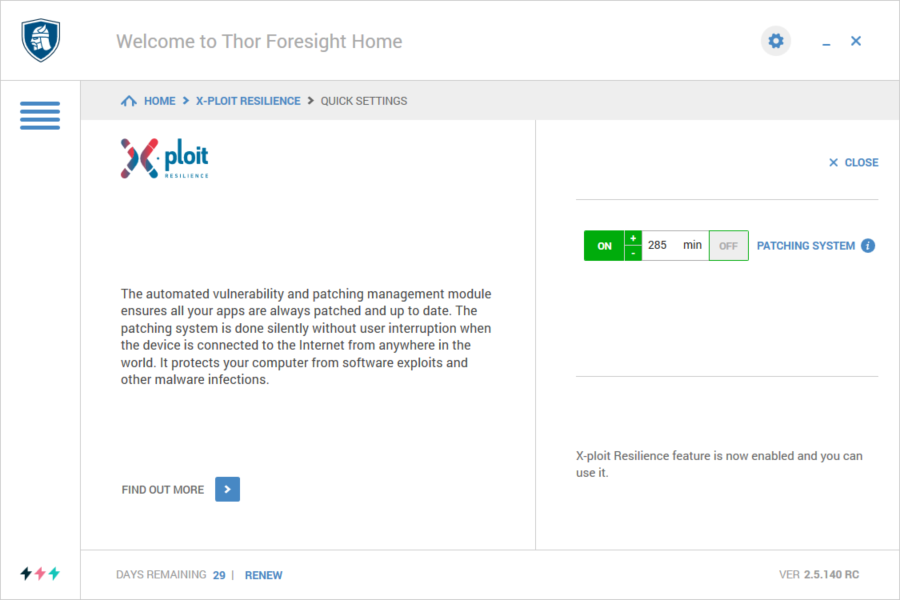 16. On Demand Scan
Next-Gen Antivirus comes with multiple types of scans that you can start manually when you consider your computer might be at risk. From Quick to Full scans, we also provide scans for active processes, systems, or all your drives. Simply click on Start and let Thor do its job. You will be notified by a balloon in the notification area when the scan starts and when it finishes.
When a scan is performed Thor displays in the top right corner that the scan is in progress and you cannot start a new one until the current scan finishes.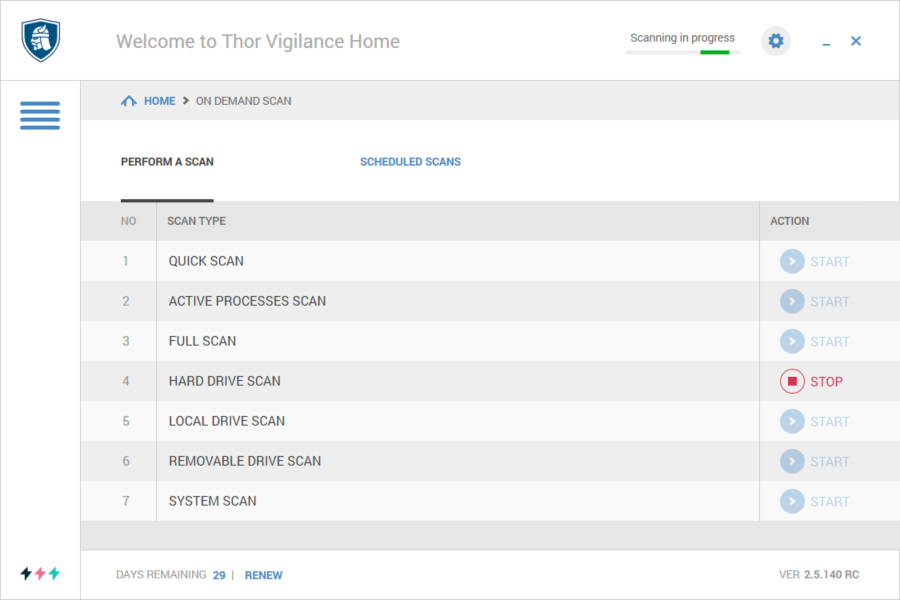 17. On Demand Scan – Scheduled Scans
Here you can check the scan types you have previously created, click on their names to modify the parameters or simply delete them.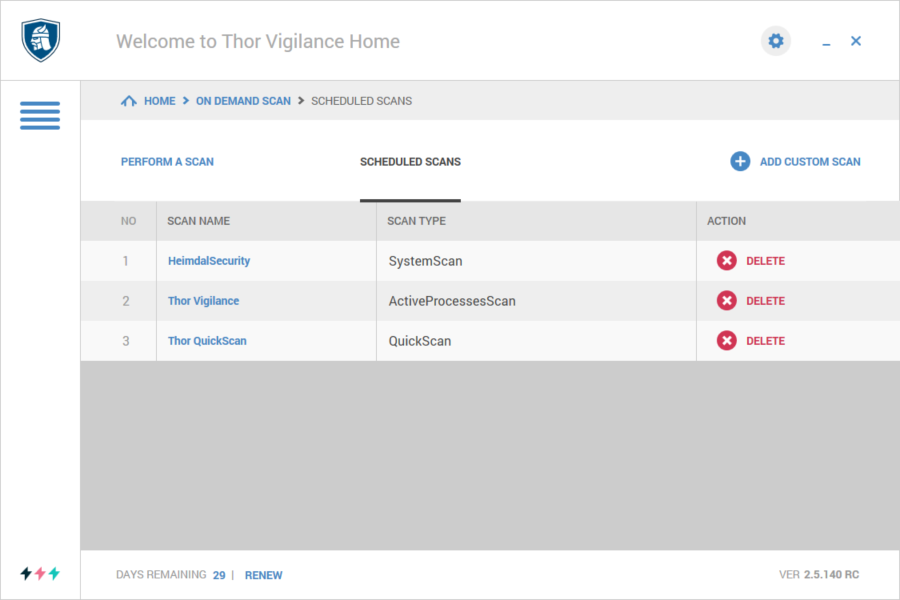 18. On Demand Scan – Add Custom Scan
Another neat feature of Next-Gen Antivirus is that it allows you to set custom scans, selecting when they should be performed. That way your work will not be disrupted by random scans that consume memory and the computer's resources are allocated responsibly when it's convenient for you.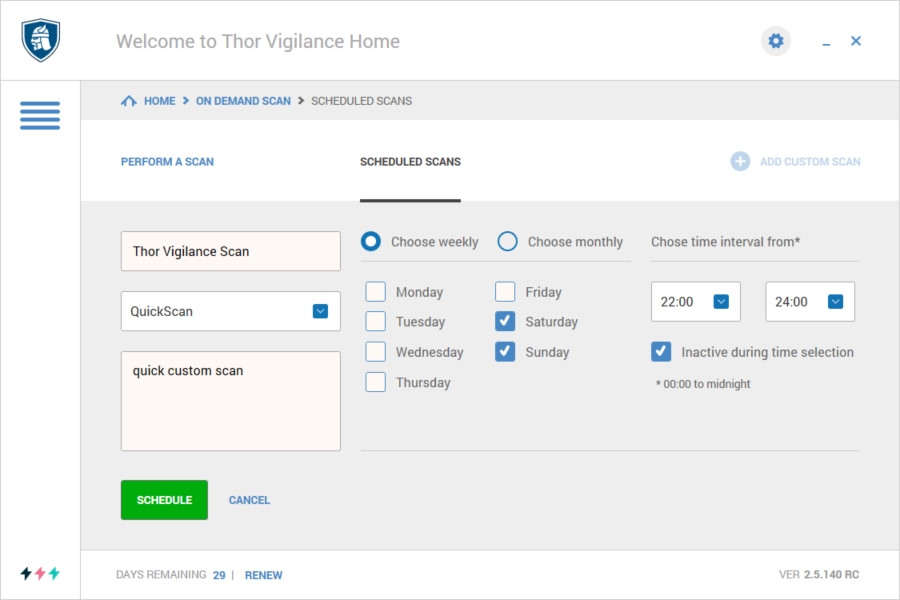 19. Infections
The most important part of antivirus is discovering infections. This module of Next-Gen Antiviurs enables you to check what has been found on your computer or removable drives then you can put the files into quarantine or delete them. If you are certain that the files are safe you can also add them to the exclusion list.
Details about the category, strain's name, and date are also displayed so that you are well aware of what has been found unsafe on your machine.
If no infection has been detected, the tab will be empty.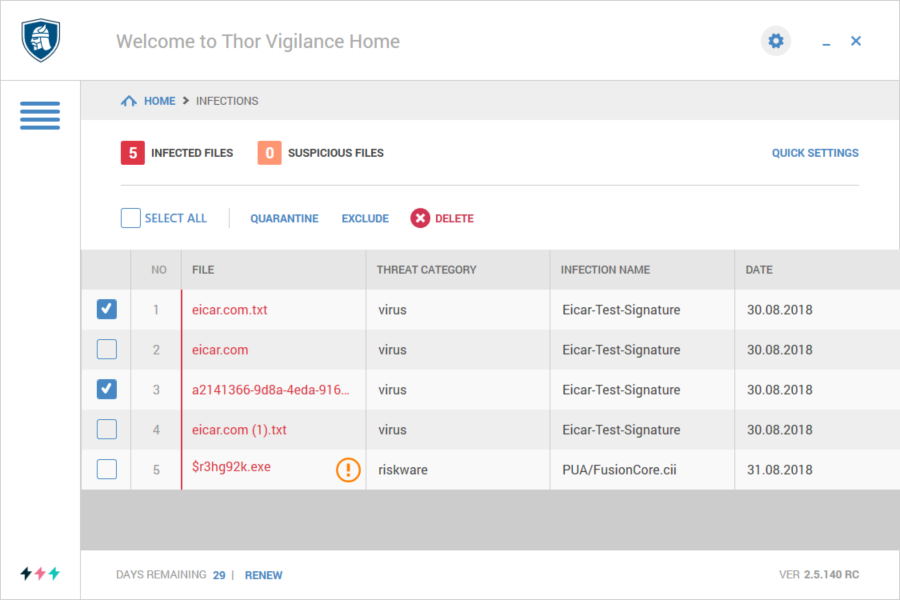 20. Infections – Quick Settings
The settings of Infections module lets you better manage the risky files by putting them in quarantine, denying as well as allowing them to be opened or executed, depending on their type.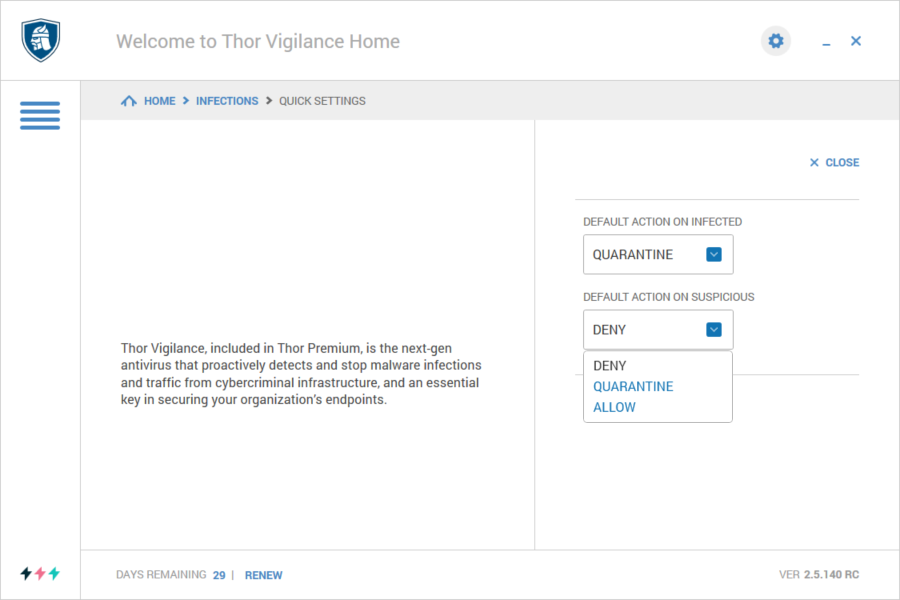 21. Quarantined
Here you can better manage the files added to quarantine, by restoring them on your drive or exclude them from being considered as threats in future scans.
22. Quarantined – Quick Settings
Similar to the Quick Settings in Infections, in Quarantined you can select what happens with malicious files when they are discovered: deny, quarantine, or allow.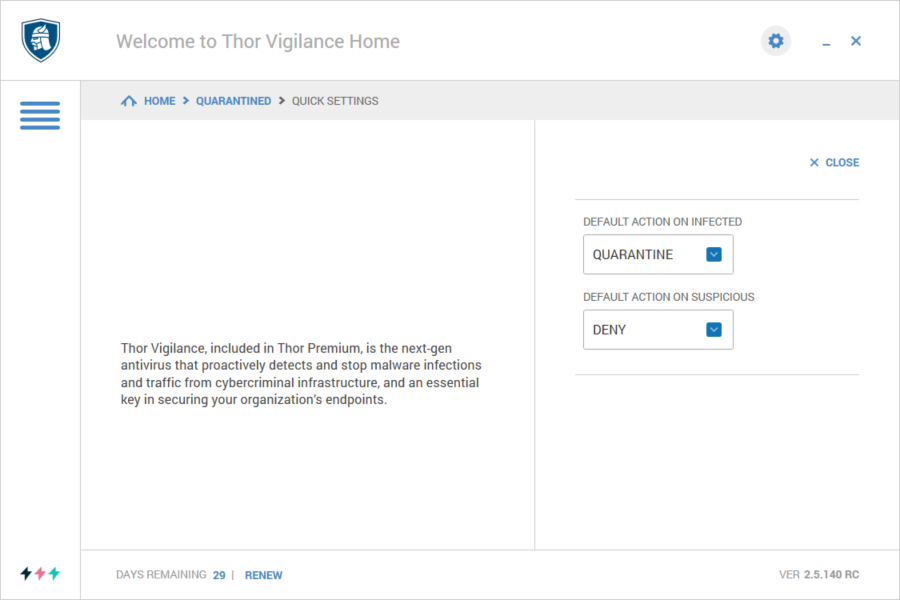 23. Exclusion
Next-Gen Antivirus offers the possibility to add folders or files you know to be safe in the exclusion list assuring that a scan will not quarantine or delete anything.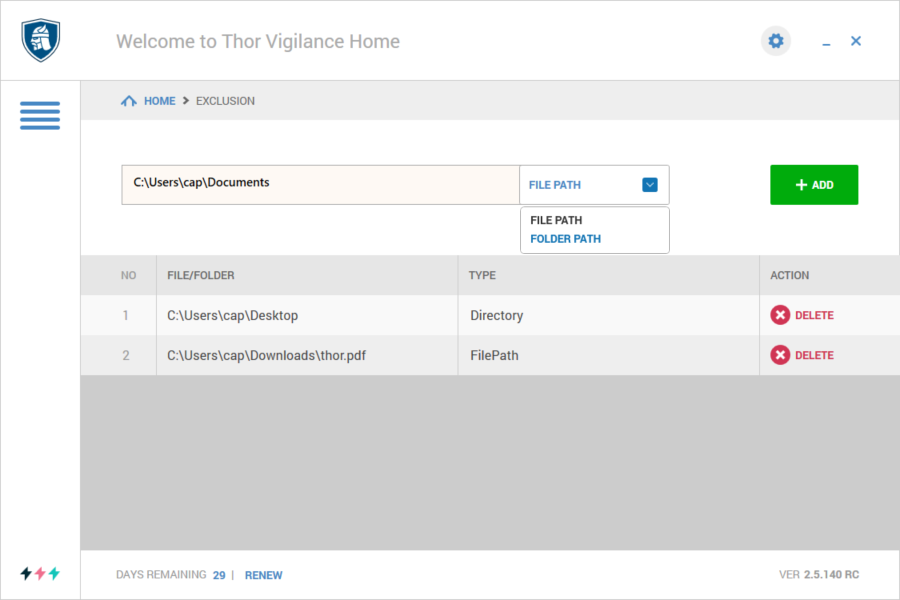 24. Activity Reports
In order to have a better understanding of what is going on with Thor and your computer, the Activity Reports view has been created. It displays what type of action Thor conducted and when.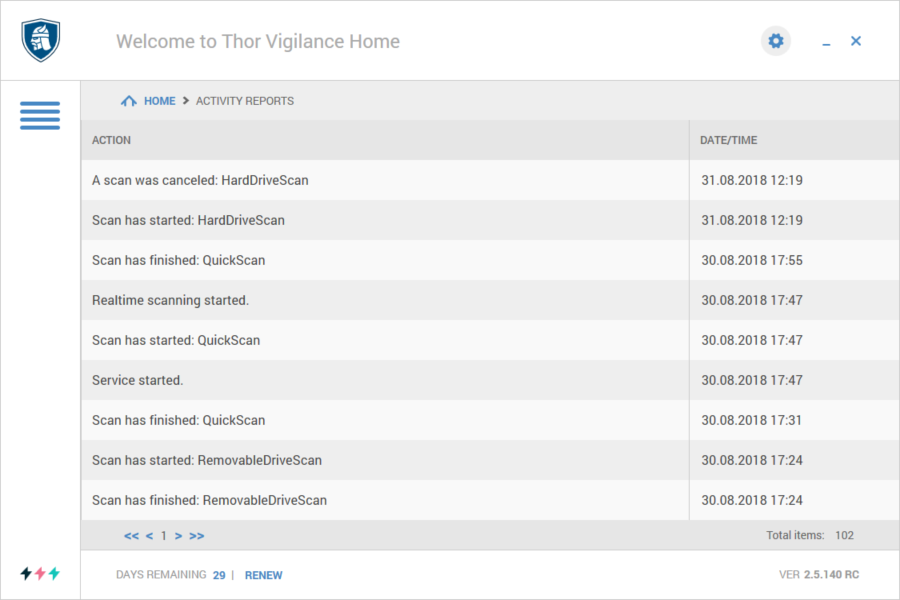 25. Educational
How to better discover the world of cyber security than by reading the latest information on the matter? You get to access our blog with just a click where you can read materials about what's going on in the online world regarding security
Here at Heimdal Security, we know how important is for everyone to be safe when they are online. It doesn't matter if you don't know anything about cyber security, because we provide Cyber Security for Beginners courses to help you understand what it's all about.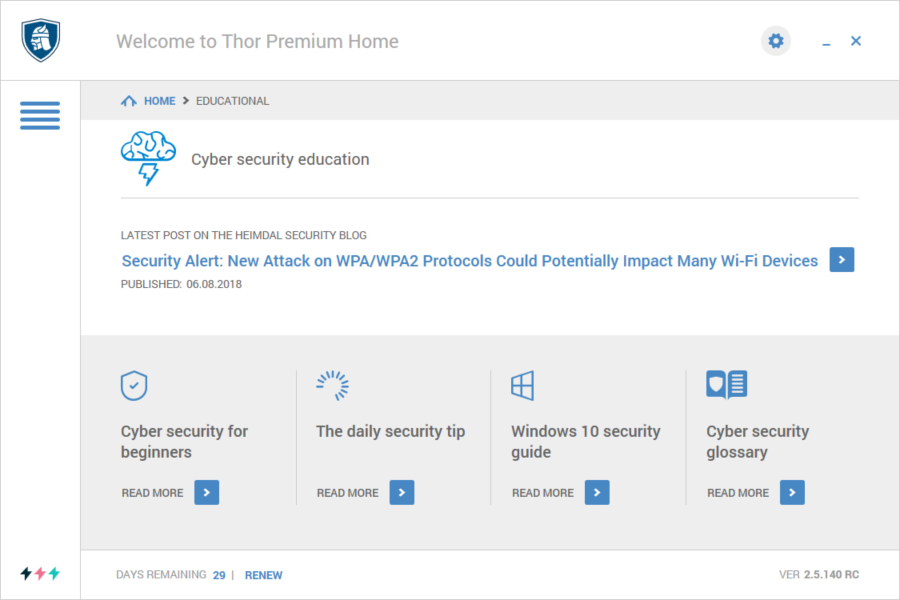 26. Settings
If you want to access the Settings section, click the gear icon in the top right corner.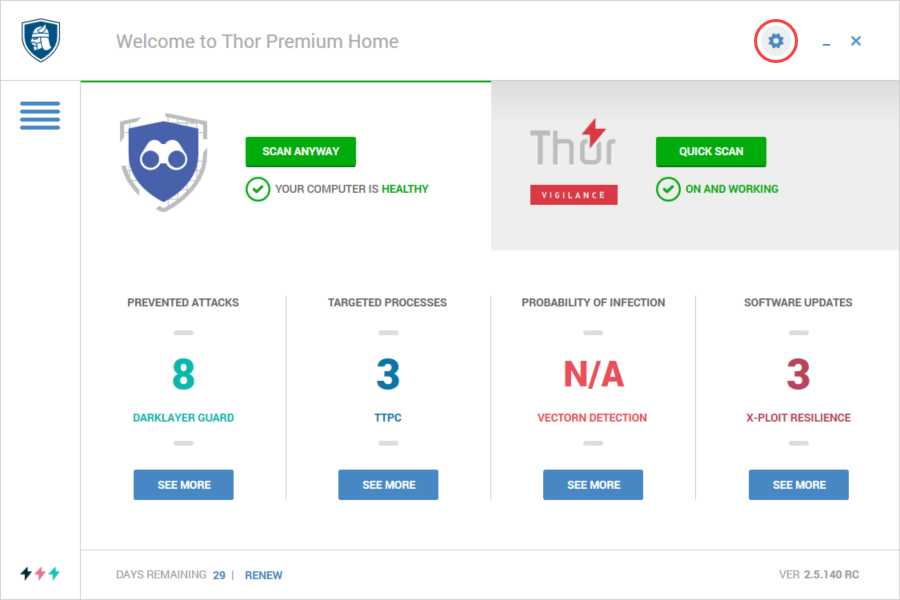 27. Settings – Threat Prevention Endpoint – Dark Layer Guard
In Threat Prevention Endpoint and Next-Gen Antivirus tabs, you can perform the same actions as in Quick Settings of each module presented above.
- Turn DarkLayer Guard and Automatically Disable Traffic Filtering on or off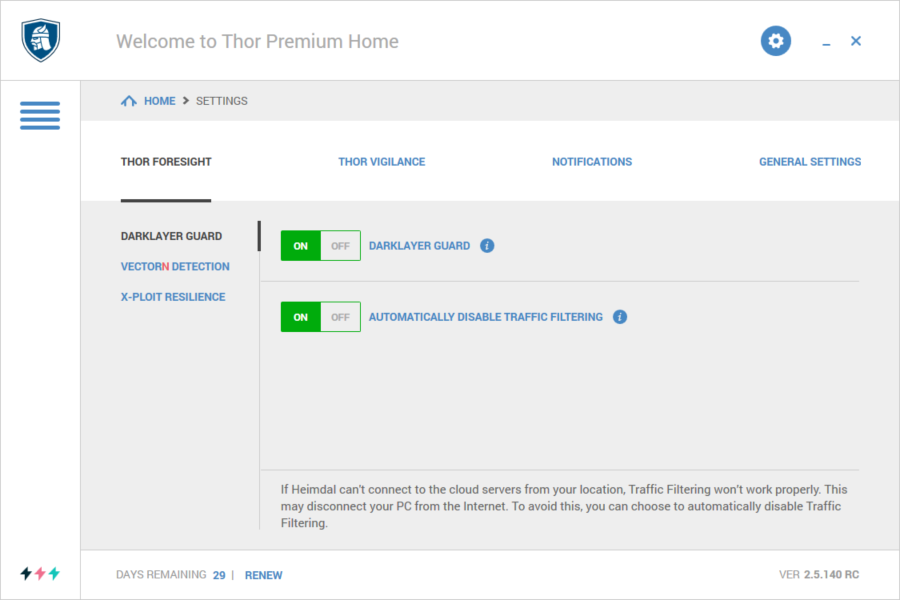 28. Settings – Threat Prevention Endpoint – VectorN Detection
Turn VectorN Detection on or off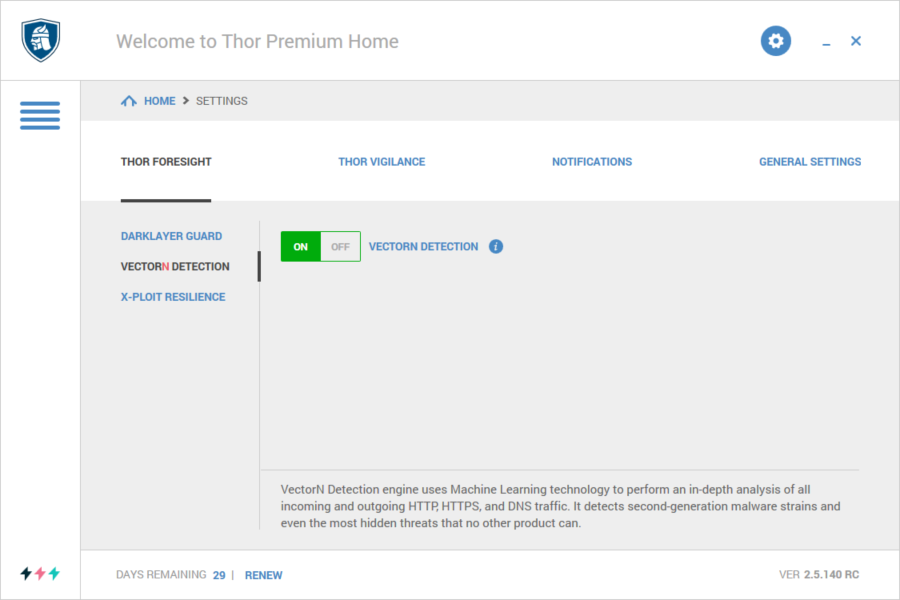 29. Settings – Threat Prevention Endpoint – X-Ploit Resilience
Turn X-Ploit Resilience on or off and adjust the time interval when Thor checks for updates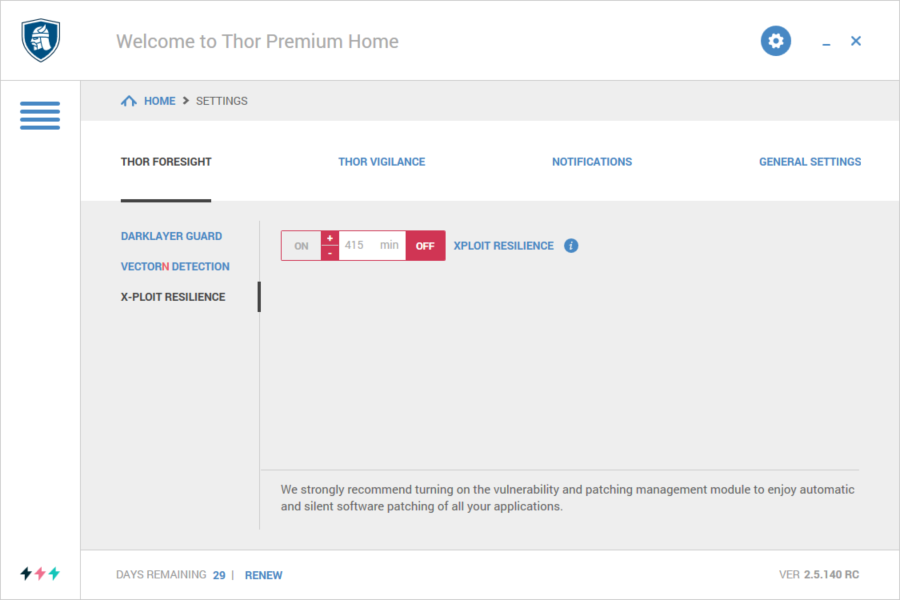 30. Settings – Next-Gen Antivirus – Action On Detection
Turn Next-Gen Antivirus on or off and select the desired action when suspicious files or infections are detected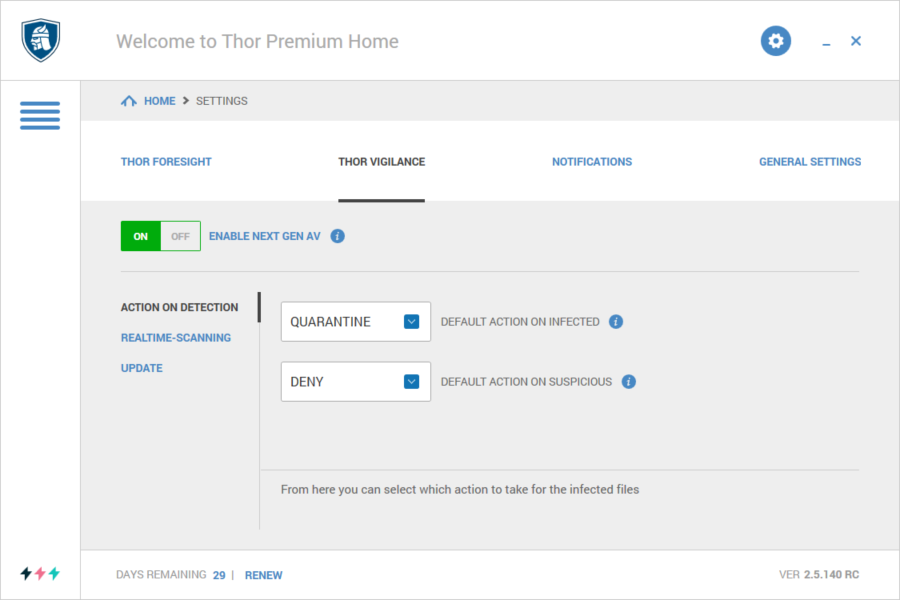 31. Settings – Next-Gen Antivirus – Realtime-Scanning
- Turn Real-Time scanning on or off for your computer to catch both known and unknown threats.
- Turn Real-Time scanning for network files and archives on or off. Be advised that these may slow down your network and CPU performances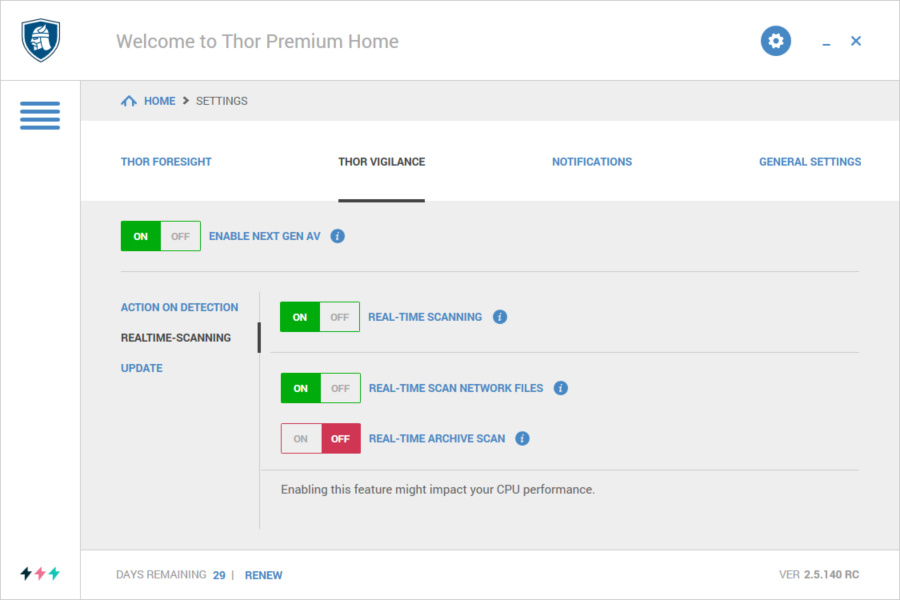 32. Settings – Next-Gen Antivirus – Update
Adjust the time interval when Next-Gen Antivirus updates the new viruses interval. A minimum interval of 2 hours is recommended to be protected as soon as a virus is released online.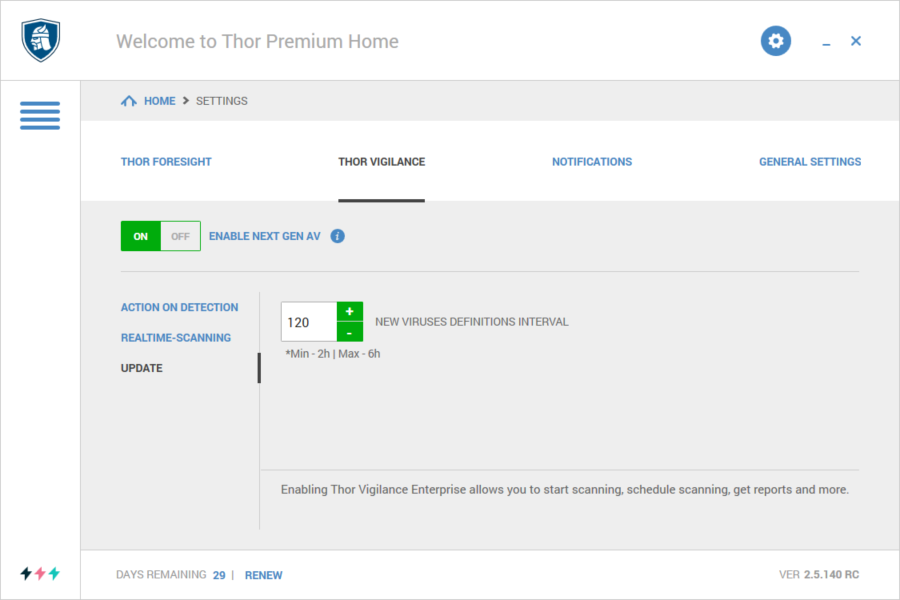 33. Settings – Notifications
- Balloon Notifications - Turn on balloon notifications for Thor to find out when it detects and blocks a threat or when it updates one of your apps. You can also adjust the notification intervals by using the controls in this setting.
- Malicious Traffic Blocked - Receive a notification every time Thor detects that your PC is trying to connect to a potentially harmful web location (website, server, etc.) and blocks that communication.
- Software Updates - Receive a notification every time Thor detects and/or installs a software update for one of your applications.
- Security News Alerts - Turn on Security News Alerts to receive notifications from the Heimdal Security blog. You can stay up to date with the latest online threats and take action to better protect your data.
- Malware Infections – Receive a notification when Thor detects and blocks a potential malware threat in your outgoing and incoming Internet traffic.
- Next-Gen Antivirus – Receive a notification when Next-Gen Antivirus detects an infected/suspicious file on your system
- Scan Status – Receive a notification when Next-Gen Antivirus starts/finishes a scan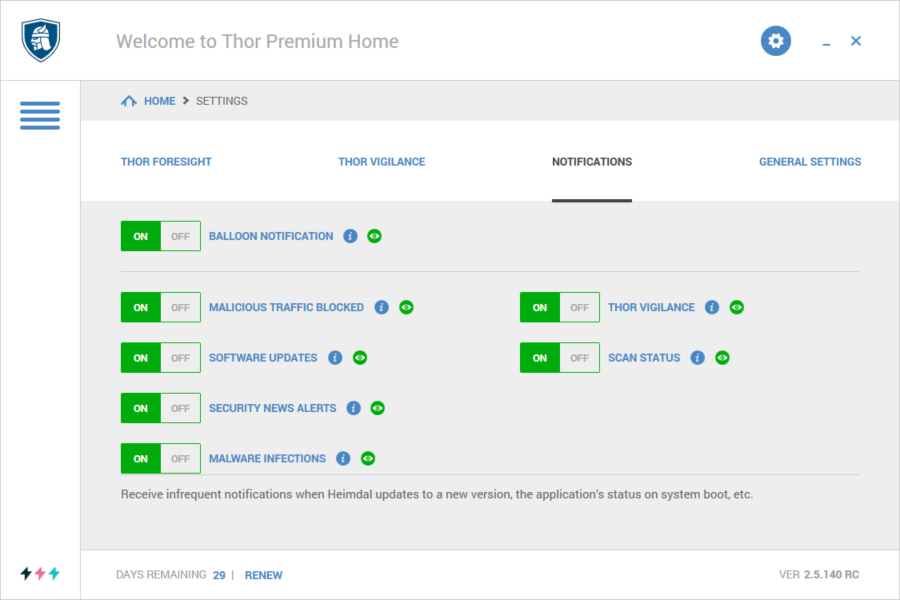 Each notification has two help buttons:

- if you press the blue info button, you will see a description of that notification

- if you press the green eye button, you can see how the notification looks like
34. Settings – General Settings
- In this tab, Thor displays information about your license type and its validity.
- If you have a FREE or Trial version of Thor, or in case you purchased a new subscription, here you can insert your key.
- We offer our product in English, German or Danish so you can switch to your preferred language.
- In case you want to swap between light or dark themes, you can do it from this Settings tab or by clicking on the icon with the 3 thunders in the left bottom corner.
- Among these mentioned options you can also turn on or off the Release Candidate that allows you to be a part of the RC program or to only have the stable versions of the product.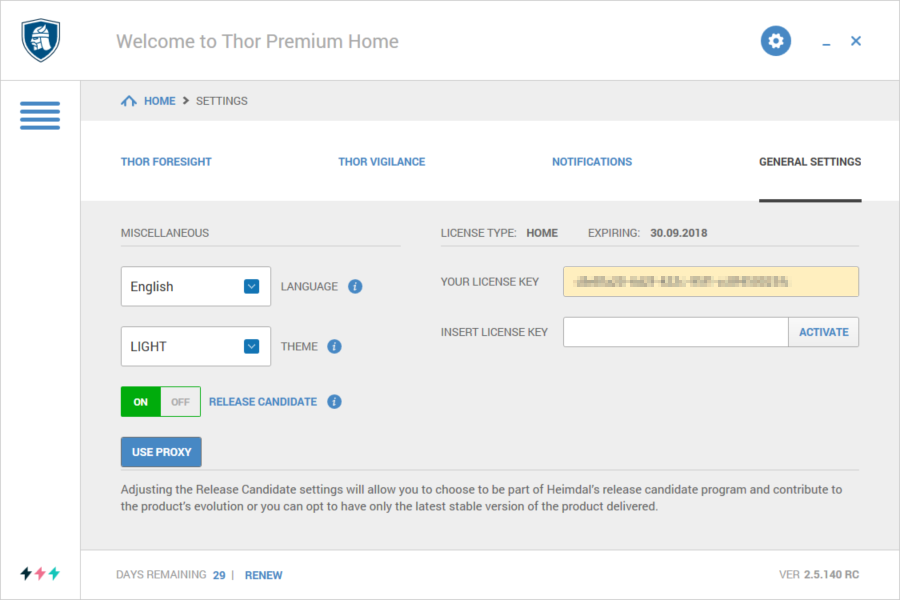 35. Settings – General Settings - Proxy
For the more advanced users, Thor allows the usage of Proxy. Just click on the Use Proxy button and add the required information.