Granting access to the Dashboard

Once the Licensing option are set accordingly in the backend from the Admin section, you may provide access to your colleagues and/or Resellers from the Account section by following the below steps:

• Click on the Account button



• If you are creating for your own Distributor colleagues, you can click on your email ID to open your own Account details and select to duplicate the general Account details.



• To create a login for your Resellers, after clicking Create New Account, please enter all info in the mandatory fields below which are numbered from 1 to 9: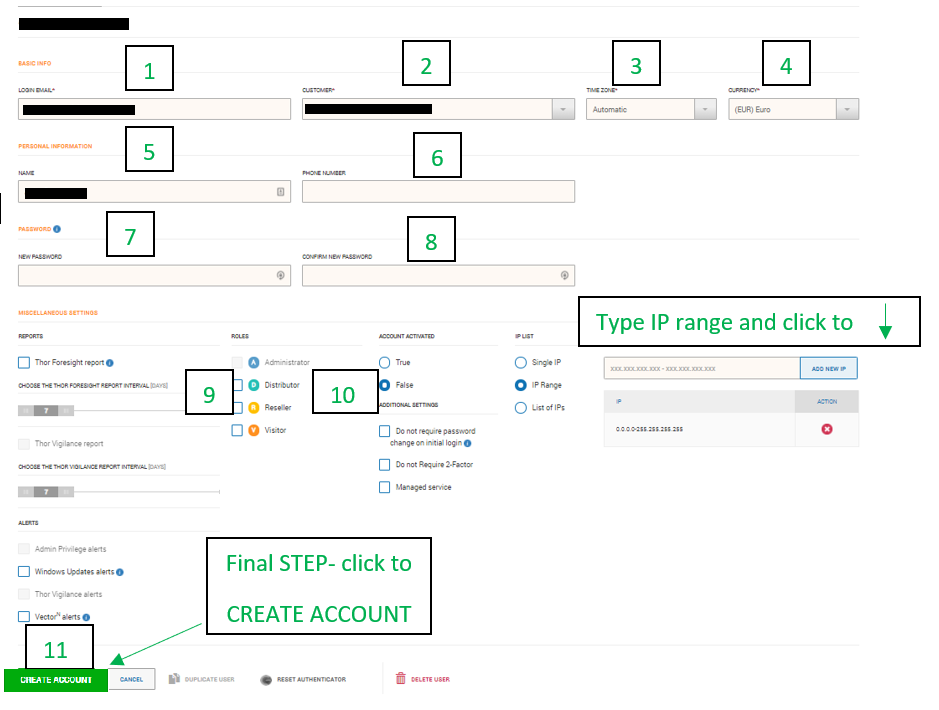 Step 1: Insert a login email address
Step 2: Insert the customer's name
Step 3: Select the preferred time zone
Step 4 : Choose the preferred currency
Step 5: Insert the customer full name
Step 6: Insert phone number (optional)
Step 7: Set a password for your account
Step 8: Confirm password
Step 9: Choose the role of the account ( customer, reseller, visitor)
Step 10: Choose if the account was activated or not
Step 11: Create the account
Note: At the final step, you will also find 3 another important options:
- Do not require password change on initial login : when this option is enabled it allows the user to login without changing the initial password
- Do not require 2FA : you can decide if you want/need or not to receive a code every time you login in
- Managed Service: these services provide higher skill-level analysts utilizing cutting-edge security tools and up-to-the-minute global databases beyond the reach and cost effectiveness of most enterprise budgets, skill levels, and resources
• The system will automatically send an e-mail to the one entered by you in Step 1. The recipient will receive a link to follow and complete the validation of his/her Account. More details can be found in the Heimdal Security Dashboard Setup Guide (which you will have to provide alongside with the Temporary Password you've entered at Step 5 & confirmed at Step 6).
IMPORTANT!
Note that

Step 9

which refers to the Role which will be allocated to the person logging in must be under the following conditions:
- If you are granting access to another colleague from your Reseller Company, please select the Reseller role by marking the box next to it.
- If you are granting access to a Customer, please do not select any Roles from the list (it will automatically detect from Step 2 the fact that it's a Customer type access).
- If you are granting access to a Customer that you just want them to view the data, but not change anything within the Dashboard (such as Group Policy settings), select the Visitor Role, as below:

Note that there is a big difference between a

Reseller

account and a

Customer

account:
- The Reseller has the option to receive reports from all the customers that are assigned to him:
a. VectorN Alerts: He can receive alerts whenever new VectorN detections are found on one or more devices
b. Windows updates alerts : Receive alerts whenever one or more devices were rebooted to install Microsoft Updates, but did not come online on time.
c. Heimdal™ Next-Gen Antivirus & MDM alerts: Receive alerts whenever infected or suspicious files are found by this module on one or more devices.
d. Heimdal™ Privileged Access Management alerts: Receive an alert with the pending elevations as soon as they are requested.
f. GSS reports:
g. Heimdal™ Threat Prevention - Endpoint reports: Receive a periodic report (you can choose the preferred interval of time) with statistic regarding patched software, blocked domains - most vulnerable machines.
h. Heimdal™ Next-Gen Antivirus & MDM reports: Receive a periodic report (you can choose the preferred interval of time) with statistic regarding the top infected devices found.

They can be easily enabled by only checking each box.
- The customer has the following view: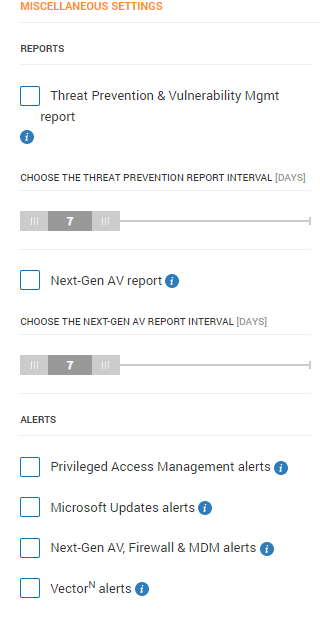 Here, if the customer enable the two reports sections ( Threat Prevention & Vulnerability Mgmt report & Next-Gen AV report) he has the option to also choose an interval of days when he will want to receive those reports.
He also has the possibility to enable other alerts from the following modules:
- Windows Updates
- Heimdal™ Next-Gen Antivirus & MDM
- VectorN