Thor Vigilance Overview
Thor Vigilance is the reactive protection side of our product suite. It is the next gen antivirus solution that reacts to infected files found on the system. It complements the Thor Foresight product module to offer all around protection. It offers a centralized management interface across all the devices for easy corporate client management. It is flexible, easy to use and it offers a wide variety of scanning profiles to fit your corporate needs. These are the two modules included in it:
- Next-Gen Antivirus Management
- Firewall Management
The two modules can be enabled in the Settings section as you will see below:

The Antivirus can be found in your computer agent, where you can easily run a quick scan directly from the application: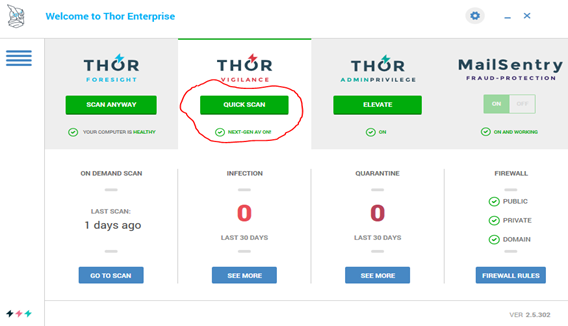 You are able to go and choose for multiple types of scans to execute on the computer (only if the admin wants to):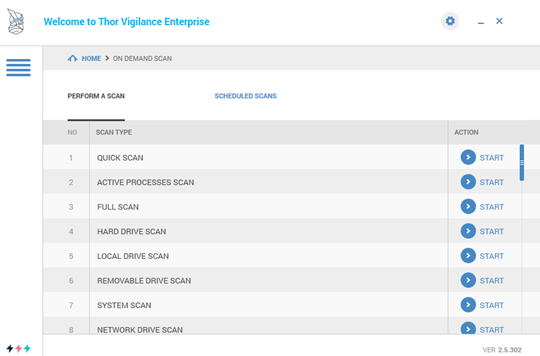 Also, you can see if you have scans on the computer that happen automatically: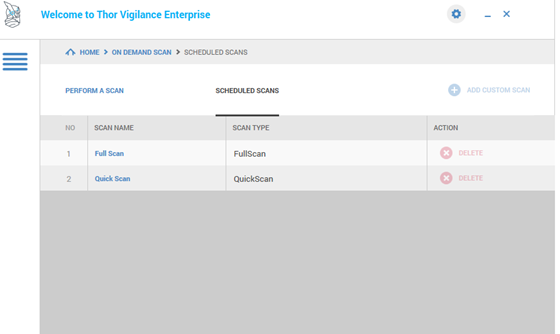 Next-Gen Antivirus Management
As a standalone AV product Thor Vigilance features a complex threat scan module that is capable of detecting viruses, trojans, riskware, heuristic threats, adware, backdoor, constructors, dialers, exploits, trash, APCs. Besides the scan module that is available on each Thor installation, the AV as a concept also features:
reporting and control dashboard (see chapter 7.1.4)
protection cloud (see chapter 7.1.4)
local quarantine location
VDFs (Virus Definition Files)
You can find Thor Vigilance in the left side of the Dashboard, where, entering the module , you will see the below options:
Latest Infections View
Infections Type View
Hostname/ Infections View
Quarantine View
Exclude View
Scan History
Firewall Rules
Firewall Alerts

Linked Articles:
Click here for more details about Thor Vigilance module
Click here to find out Thor Vigilance available scans
Click here for more details about the files you can add in your Antivirus Exclusion List
Firewall Management
This is the module that allows you to control the Windows Firewall from the Heimdal Management Portal. Also, it brings an extra layer of protection for your computer.
You can easily enable this module by entering your Settings section as you will see below:

Linked Articles:
Thor Vigilance on Windows Servers
Windows Server (regardless of version) does not have the WSC (Windows Security Center) service, where AV providers can register. That means, we cannot register ourselves as an AV, or can we detect if another AV is installed.
That means, the AV (Defender in this case) is not register. In conclusion, we can't detect it.Windows Defender cannot be removed by Heimdal on Windows Server. They have to be treated manually.
Linked Articles:
Here is a short presentation of Thor Vigilance product overview: